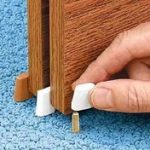 There's a front sliding closet door in our home that regularly jumps the tracks. It's like it thinks it can escape from its closety confines and run to freedom (or to the kitchen, it's hard to tell). Needless to say, it's a bit embarrassing to deal with when opening it in front of guests to put or fetch their coats. While I admire the tenacity of this closet, as South Park's Eric Cartman would say, it's time for it to "Respect my authoritay!" Bring on the EZ Nail On Sliding Closet Door Guide.
Admittedly, this product doesn't look like much. It looks like a few random plasticy pieces you might find in a junk drawer and have no idea where they came from. And, the manufacturer's web site is not likely to win any design or spelling awards anytime soon. But when used correctly, you have a simple solution for sliding closet doors. The nice thing about the EZ Nail On Sliding Closet Door Guide (could that name be any longer?) is that it can actually replace a bottom track if you want it to and can be installed on carpet, hardwood and even concrete. It's also a one-size fits all product. You simply place it along and in between the sliding doors and it's an insta-guide. It's available in white, birch and walnut (great if you want it to compliment your hardwood or laminate). The EZ Nail On Sliding Closet Door Guide can only be purchased directly from the manufacturer for just $4.95 – which is one of the reasons it's priced so low.
"Did you like this? Subscribe!"
Get HomeFixated updates straight to your inbox once a week. Your email address will never be shared