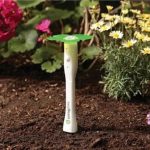 Imagine you're in your garden and suddenly have the eery feeling that someone is watching you. You look over to see this little creature with a single eye just glaring at you! Then you realize "oh yea, that's just my Easy Bloom Plant Sensor". Whew! Despite the slightly odd flower-esque industrial design with a petal top and curvy white plastic body, the Easy Bloom is a god-send for the frustrated gardener or houseplant-killing amateur. Simply insert the little USB-compatible device in the soil of your garden and/or pot and give the guy a few days to read the soil conditions, temperate, light and humidity. Then plug it into your computer, hit the web site and look for the solution to your geranium-murdering reputation or just get a list of plants that would love your particular corner of the garden. The Easy Bloom would probably make a great gift for that gardener-type in your family or on your list of hard-to-buy-for folks. Just make sure they know the difference between that garden trowel and a computer mouse. The EasyBloom Plant Sensor by PlantSense
is available for about $60.
"Did you like this? Subscribe!"
Get HomeFixated updates straight to your inbox once a week. Your email address will never be shared