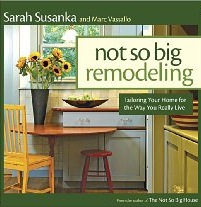 Sarah Susanka, the author of Not So Big Home and Not So Big Life has a new book out – Not So Big Remodeling: A Better House for the Way You Really Live. Susanka, an architect, has long preached that bigger is not necessarily better. Not So Big Remodeling, like her other books, continues to follow this philosophy. Her approach to home renovations is perfect for people like me who have a Not So Big Budget and a Not So Big Patience Level For On-Going Construction In My Home. Quality over quantity is the name of the game. According to Susanka, small, thoughtful changes can create a more effective, comfortable home. One of the differences between this book and other books on renovations and remodeling is that the author instructs its readers to ask questions of themselves including WHY they want to remodel a particular room or home. Think of it like a husband who follows his wife into a shoe store when she needs rainboots. "And WHY do you need another pair of black pumps?" he'd ask as he catches her trying them on. She'd shrug and mumble something about them being cute and eventually realize she doesn't really NEED another pair of black pumps and instead gets the shoes she really came in to get. Remodeling can be a similar process. People see things in magazines, presume that bigger and more open is what they should be doing and run head-first into costly projects. Susanka shows how to look at each room critically and how minor projects can have major results. The book is also very keen to find green and budget-friendly solutions wherever possible – a great plus for the modern homeowner. The 264 page hardcover Not So Big Remodeling
with loads of pictures and diagrams can be found on Amazon.com for $20.38.
"Did you like this? Subscribe!"
Get HomeFixated updates straight to your inbox once a week. Your email address will never be shared