As you may have noticed, there seems to be no limit on movies, shows, toys, cartoons, and web information relating to all things zombie. In fact, there were no less than 26 zombie movies released in 2011. I know – pretty ridiculous – but guess what, there are a bunch more coming out in the year 2012. So with this plethora of atrocities coming to your video queue or to a movie theater near you, we at HomeFixated thought it was time to give a list of sweet tools that you could use during a zombie apocalypse or even just a highly contested scrabble game.
Note: This list is laid out from close range to far range for your consideration and level of squeamishness.
1: Douglas Hammers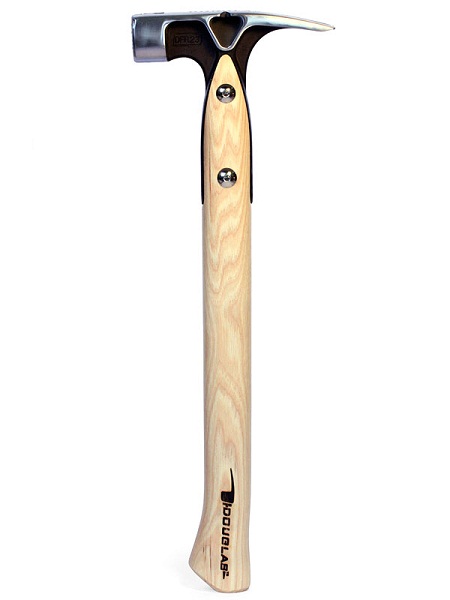 As you may have read before, Douglas Hammers are a work of art. They have a graceful yet manly wooden handle and a steel neck that is actually an extension of the head of itself – amazing. But that steel head and neck  will perform double duty for you when you're neck deep in zombie goo. The steel neck prevents breaking of the head due to missed hits or bone fragments. In a pinch you can double fist these bad boys and go to work.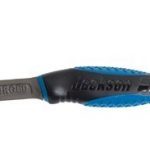 2: The Jackson Pulverizer
Oww, the name says it all doesn't it? At 3.5 pounds, you could accidentally drop it and kill a zombie. All steel and meant to cleave and then leave – it's a monster. It even has a nice shock dampening handle in case you need to drive through two zombies at once.  Unfortunately, it's so big that you're gonna have to use both hands, unless your name rhymes with Parnold Bartzenegger.
Would you just look at that drill bit? If you can get a line of zombies in a row and a good running start, you could mow through them like butter. Just think of the devastation from two drills going at once. We would recommend the Porter Cable Drill for two reasons. First, it has a heck of a lot of torque, and second, it's battery operated. No cord means no chance of running out of plug or power halfway through your multiple lobotomy surgeries.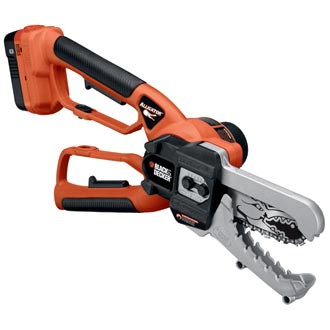 You don't even have to worry about aiming for the head with these bad boys from Black & Decker. Just grip it and rip it. When you think about it, these shears are pretty much just small chainsaws with arms to hold your zombie heads in place or your tree limbs or whatever you need them to do. Again, we suggest battery operated for the extended range.
5: The Gransfors Bruks Broad Axe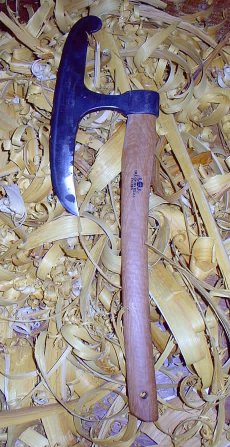 This may be my favorite tool on the list. I know I am a little old fashioned, but I like the craftsmanship that older tools have, especially when I'm going to lop off some heads. Just look at that blade on the axe. It was and in some places still is used to hew logs into timber. However, in times of apocalypse, I'm pretty sure that it would serve well as a head lopper too.
6: Chainsaw
As we begin to increase our distance away from the undead, it's important to have the right tools. By far the most gruesome of all the tools on my list, a chainsaw would do wonders for removing the brain. However, if you're going to have a chainsaw to clear a path through swarming legions of undead, why not have a real man's chainsaw. The video below shows what a 6 foot saw can do to an enormous tree.  Imagine what it could do to multiple attackers! Huh, I wonder if I could get it mounted to my arm like Bruce Campbell in Dawn of the Dead?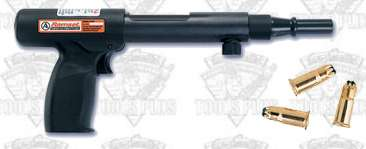 7: Ramset .22 Powder Actuated Concrete Nailer
I know what you're thinking, isn't that just a gun? No, it is so much more than just a gun. Sure it uses bullets (minus the actual bullet) to drive a nail into concrete, but see, it doesn't have the lead in it. Although… Anyway, just think how much damage a nail that generally is driven into concrete could do as it passes through rotting flesh. That kill count is only going to go up.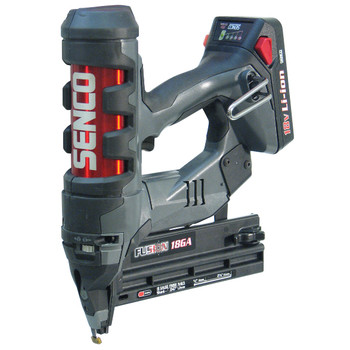 Sure it only shoots finish nails, but it's small enough that you could handle two of these bad boys at a time. Can you say, "Say Hello to my little friend"? And the best thing is that it's completely cordless. The Senco uses a nitrogen-based fuel system that shoots nails. No air hoses to trip over or bulky gas powered compressors to wheel behind you like some kind of crazed person trying to reach the gate before the plane leaves. Just hands full of cold steel and nitrogen.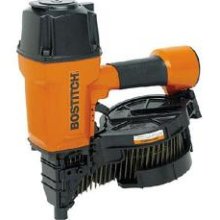 9: Coil Nail Framing Nailer
I've used several coil framing nailers in the past and have always been well pleased. The beauty here is that there are generally 120 nails per coil, and if you tie the coils together you may be able to string them like Picasso here did below. However, because it does require pressurized gas to shoot the nails, I suggest using the CO2 canister kits that Lowe's sell under their Kobalt line. You can strap it to your belt or get a big tank and strap it to your back and have a mobile framing nailer machine gun shooting 3 ¼ inch nails through the gooey heads of your assailants.
10: Paslode Framing Nailer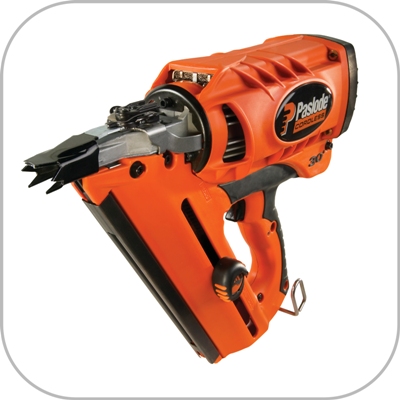 I know we're heavy on nail guns here, and as rule 9 from Zombieland says, guns are for hunting, not zombie killing. And I understand that you need bullets or nails in this case to protect yourself, but really we're talking about survival, not slaughtering. The Paslode is a self-contained nail gun much like the Senco Fusion. It's great because it uses small fuel cartridges that fit inside the body, meaning that there are no hoses to fuss with, period. Plus, the cartridges are about the size of a pistol magazine so they can fit just about anywhere. They may not have the holding capacity of the coil framer, but with less bulk and a handy belt clip that allows the gun to dangle when not in use, it's much more mobile.
Happy Hunting, and remember rule 4 from Zombieland – always go for the double tap.
Editor's Note:
The techniques described here should only be used for self defense against zombies. Should you ever encounter a zombie, keep in mind that fleeing the zombie is often more desirable than hand-to-hand combat. Let's face it, zombies are pretty damn slow. Finally, for the great/demented minds think alike files, our friends over at ProToolReviews.com manage to scoop us by two days with almost the exact same topic. They've even included a glow-in-the-dark crowbar. . . genius! We've had this post in the queue for a while now, so please don't accuse of copying their brilliant thinking!