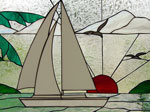 Sometimes stained glass looks great, other times it really looks bad. We have not quite figured out if the we like the stained glass on one of our windows. If it is original to the house, we think we like it. If it is from a 1970′s remodel, we don't like it so much. Translation, it is ugly, but we are suckers for keeping things original when we can. Our lack of enthusiasm for the stained glass led me to a local custom stained glass company that also ships nationwide. StainedGlassWindows.com is a company based in Imperial Beach California that sells both pre-made stained and bevelled glass, as well as custom work. Typical custom prices are $50 to $65 for each square foot of glass within your window, although jobs that are 2 square feet or less, or those with very intricate patterns are priced higher and quoted on a job by job basis. They can even make windows to fit custom shapes.
Visit StainedGlassWindows.com for samples and more information on beautifying your windows.
"Did you like this? Subscribe!"
Get HomeFixated updates straight to your inbox once a week. Your email address will never be shared